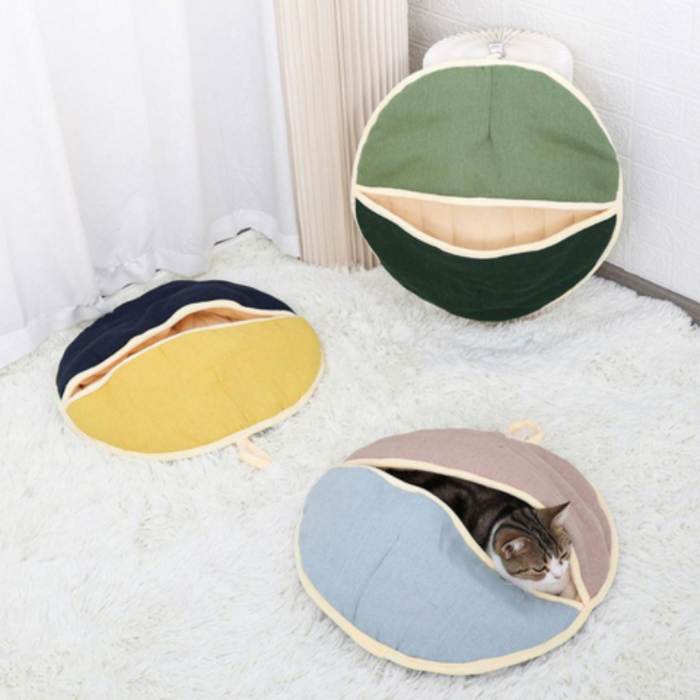 KittyNest
Breathable Cotton Cat Bed
Offer Ends
🍃 Cotton-linen blend for a fresh, cat-friendly snooze
🛏️ Perfect hideaway for peaceful, undisturbed sleep.
🕰 Long-lasting and durable design
🎄 Advent Sale - Save

£10.00
🎄 Advent Sale - Save

£0.00
Original price
£29.90
-
Original price
£29.90
Imagine a paradise where your furry buddy can enjoy a heavenly nap. We've crafted just that with the KittyNest Breathable Cotton Cat Bed. It's more than a bed—it's a snug nest where dreams are made. You'll see your pet snuggling up, curling into a ball, and drifting into the sweetest dreams.

The Dreamy Hug Your Cat Deserves
Picture the softest, most inviting place for your cat to nestle. Our bed is made from breathable cotton and linen fabric, promising cuddles that are gentle on the skin. The fluffy, bouncy, spray-adhesive cotton filling invites your pet into a world of coziness and serenity. It's the fluffy hug every cat dreams of!
Durable, Cozy, Stylish: That's KittyNest for You
Durability meets comfort and style in this perfect nest for your feline royalty. Built to last, this resilient bed withstands the test of time, promising countless moments of joy and comfort for your pet. So, rest easy knowing this is one investment that keeps on giving, offering your precious kitty a peaceful and cozy retreat for years to come.

DETAILS
Comfortable Cat Nest

Cat-Friendly Material with Breathable Cotton

Lightweight and Durable Design

Perfect for all cat households

For Sizing Please See Product Pictures

* All orders are processed within 1-2 business days, our typical delivery frame 7-10 business days.  Depending on your location, you may receive your item much earlier.