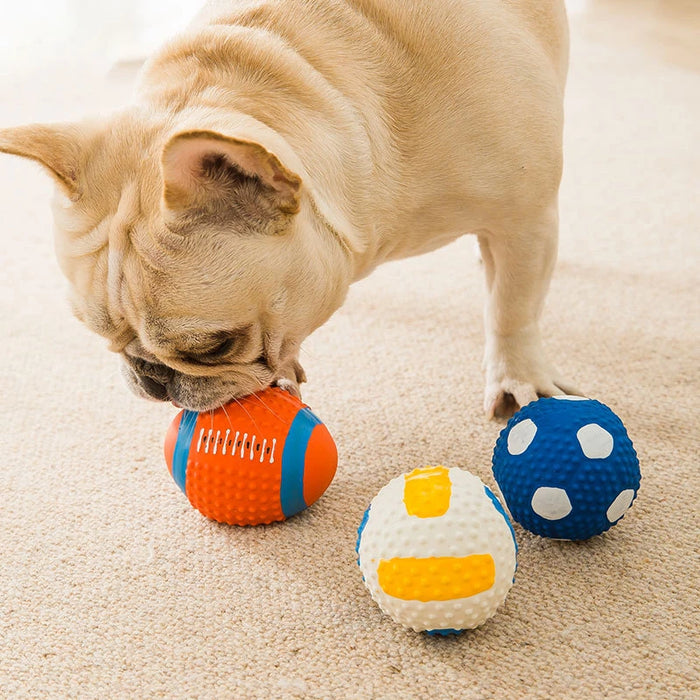 Playfinity - Immortal Chewball Set
Offer Ends
🎄 Advent Sale - Save

£20.00
🎄 Advent Sale - Save

£20.00
Original price
£44.90
-
Original price
£44.90
Experience the joy in your dog's eyes as they discover the Playfinity Immortal Chewball Set - a premium, virtually indestructible selection of four sports-themed chewballs that promise endless fun, satisfying their natural urge to chew while promoting dental health, and ensuring your peace of mind knowing you've chosen the best for your furry friend.

Transform Playtime Forever with Unbreakable Excitement
Imagine the excitement in your dog's eyes as they get their paws on these fun, sports-themed chewballs. This isn't just a toy - it's a game-changer for you and your furry friend. These chewballs are designed to withstand even the most enthusiastic chewers. You can sit back and relax, knowing your dog is enjoying a toy that's built to last. No more constant replacements, no more worries.
Boost to Your Dog's Wellbeing and Endless Surprises
Playfinity offers more than just indestructibility. Every bounce, roll, and fetch promotes your dog's physical health. It's not just about keeping them entertained; it's about supporting their wellbeing and happiness too.

The unique shapes and textures offer a stimulating experience that goes beyond the average chew toy. It's a surprise in every play!
DETAILS
Durable chewball set

Sports-themed designs

Promotes dental health, happiness and much more

Interactive play for dogs

Sizes: please refer to product pictures
Set: 4 pack (football, volleyball, rugby and baseball)

* All orders are processed within 1-2 business days, our typical delivery frame 7-10 business days.  Depending on your location, you may receive your item much earlier.