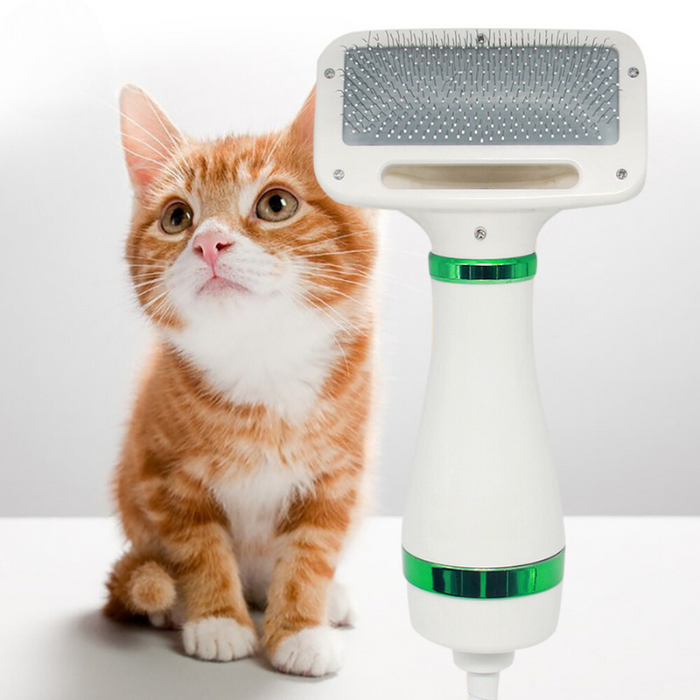 BarkBlow - All-in-One Dog Dryer and Brush
Offer Ends
🎄 Advent Sale - Save

£20.00
🎄 Advent Sale - Save

£20.00
Original price
£44.90
-
Original price
£44.90
Transform tedious grooming days into moments of joy with BarkBlow - our all-in-one Dog Dryer and Brush, ingeniously designed to make your beloved pet's grooming easy, quick, and enjoyable, while promoting a healthy coat and saving precious time, so you can focus more on those cuddles and games your furry friend so much loves.

Turn Bath Time Chaos into Warm Bonding Moments
Think about those moments when your pet is running around the house, soaking wet after a bath. With BarkBlow, you can turn those chaotic episodes into heartwarming bonding times. Our dryer gets your fur baby from wet to dry in no time, while the integrated brush untangles and smooths out their coat. 
By ensuring your pet's coat is dry and free from tangles, you're helping to prevent skin conditions and keep their fur looking its best. After all, a healthy pet is a happy pet!

From Chore to Pleasure: Reinventing Pet Grooming
Imagine this. It's grooming day. Instead of wrestling with a towel, hairdryer, and brush, you've got BarkBlow in your hand. Your pet is calm and relaxed, and you're feeling a sense of accomplishment. Grooming has transformed from a chore into a pleasure! Give BarkBlow a try, and experience the joy of stress-free, at-home pet grooming.
DETAILS
All-in-One Dog Grooming Tool




Quite During Blow Drying 

Adjustable Temperature

Quick Pet Dryer and Efficient Deshedding Brush




Promotes Healthy Pet Coat

Time-Saving and Easy-to-Use

Perfect for Almost all Pets with Fur

For Sizing Please See Product Picture

Comes with an US-Compatible Plug
* All orders are processed within 1-2 business days, our typical delivery frame 7-10 business days.  Depending on your location, you may receive your item much earlier.