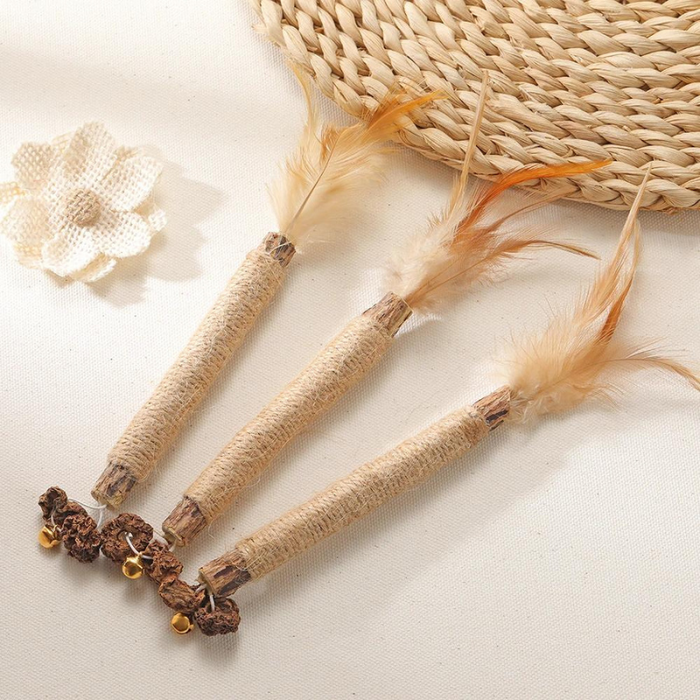 FelineChew - Natural Dental Hygiene Silvervine Sticks
🎄 Advent Sale - Save

£0.00
🎄 Advent Sale - Save

£-7.90
Original price
£7.90
-
Original price
£7.90
Unleash your cat's purrfect smile with our FelineChew Natural Dental Hygiene Silvervine Sticks, a feline delight designed to not only entertain but also improve your kitty's dental health, reducing plaque and bad breath, ensuring a happier, healthier, and more playful pet - it's the ultimate answer to your cat's oral hygiene, backed by the power of organic, eco-friendly Silvervine.

T urning Playtime into Dental Care Joy
Step into a world where your cat's dental hygiene is no longer a struggle, but a joy with our FelineChew Natural Dental Hygiene Silvervine Sticks. Imagine your feline friend bounding over in excitement, eager for playtime that's secretly looking after their health. That's the power of our FelineChew sticks, a win-win for both you and your furry family member.

Experience the Delight of Healthy Playtime
The joy of seeing your cat embrace our FelineChew sticks is heartwarming. It's the kind of happiness that comes from knowing your cat is entertained, active, and above all, healthy. Every purr, every playful jump, and every show of affection is amplified.
DETAILS
Silvervine Sticks




Natural Cat Chew Toy for Better Dental Hygiene

Eco-friendly and Organic

Plaque Reduction and Bad Breath Solution for Cats

Perfect for all cats

Set: 5-Pack

* All orders are processed within 1-2 business days, our typical delivery frame 7-10 business days.  Depending on your location, you may receive your item much earlier.