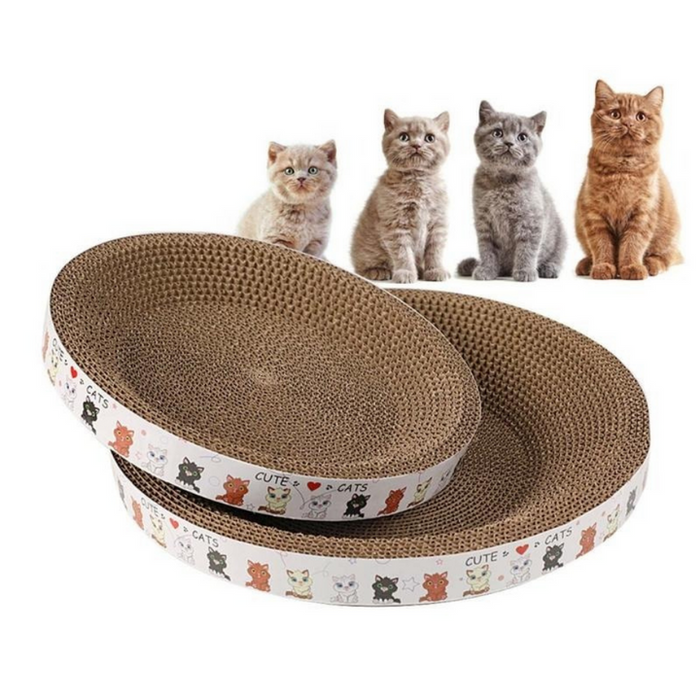 Cardboard Paradise
Cat Bed for Stress-Relief, Claw Health & Furniture Safety
Offer Ends
🐾 Stress-Buster: Reduces anxiety and boosts well-being for happier cats.
💅 Natural Claw Care: Encourages vital scratching, saving your furniture.
🌬️ Breathable Comfort: Cardboard design ensures freshness and coziness.
🎄 Advent Sale - Save up to

£14.00
🎄 Advent Sale - Save

£0.00
Original price
£24.90
-
Original price
£29.90
Let your four-legged friend relax and scratch in the Cardboard Paradise for extra stress relief. The breathable Cardboard Oasis offers comfort and is the perfect solution for all cat owners who want to offer their cat a comfortable bed.

Reduces stress and promotes well-being

Scratching is a normal and important need of cats and simply makes our four-legged friends happy! By scratching, your pet can stretch its entire back, sharpen its claws and mark its territory. 
The Cardboard Paradise is ideal for letting your cat run wild without damaging anything. 
Insulating and breathable
Cardboard is the best material for cats as it is very breathable and at the same time insulating.
The Cardboard Paradise addresses several needs, provides curiosity, warmth and security.
DETAILS
Size: 30cm, 40cm, 30x45cm
Material: Cardboard

If you are unsure about the size, we recommend the larger size so that you can be sure it is big enough for your loved one

* All orders are processed within 1-2 business days, our typical delivery frame 7-10 business days.  Depending on your location, you may receive your item much earlier.