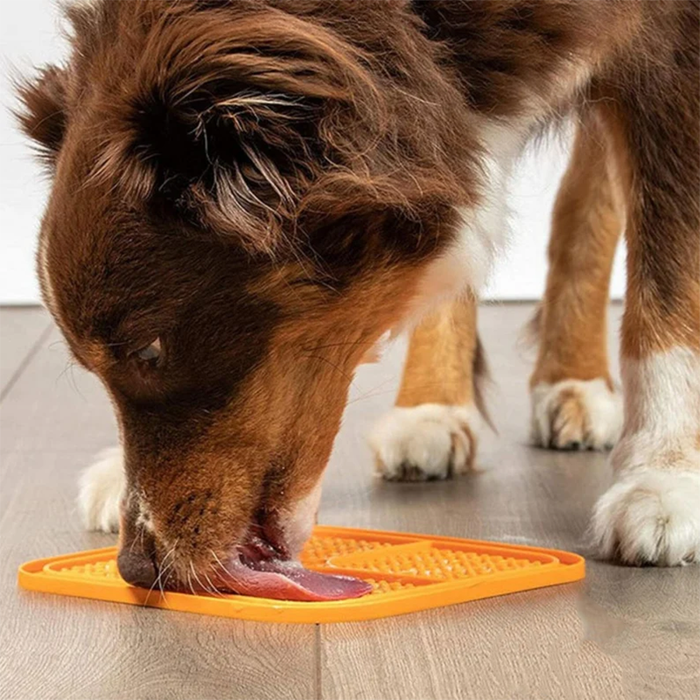 🎄 Advent Sale - Save

£12.00
🎄 Advent Sale - Save

£12.00
Original price
£24.90
-
Original price
£24.90
Unleash Your Dog's Ultimate Bliss with LickTastic! This is the all-in-one stress-relieving and boredom-busting pad that keeps dogs of all breeds and ages entertained, happy, and satisfied – a perfect companion for every loving pet owner looking to enhance their furry friend's well-being.

Calm, Soothe & Delight Your Dog
Stressed pup? No problem! LickTastic is a fantastic stress-reliever, as the act of licking releases calming hormones in dogs. This soothing pad provides comfort and relaxation, reducing anxiety and restlessness – perfect for those thunderstorm nights or when you're away from home.

LickTastic's unique design allows you to spread your dog's favorite treat or food on the patterned side, freeze it, and then let them enjoy licking it out. This engaging activity not only keeps them entertained but also helps promote healthy digestion and much more!
Unleash Fun & Convenience for Pups and Owners
Turn bath time into a breeze with the handy suction cups! Simply stick the pad to your shower wall or bath and let your dog lick away, keeping them distracted and entertained while you scrub away the dirt. It's never been easier to keep your pet clean and happy at the same time!
This is just one of the countless ways LickTastic can keep your pet engaged, entertained, and happy, making life simpler and more enjoyable for both of you!
DETAILS
Size: 21x21x0.9cm
Stress-relief and 

anxiety reducer for pets

All breeds and ages
Dishwasher safe

Set includes: 1x LickTastic Orange, 1x LickTastic Blue

* All orders are processed within 1-2 business days, our typical delivery frame 7-10 business days.  Depending on your location, you may receive your item much earlier.