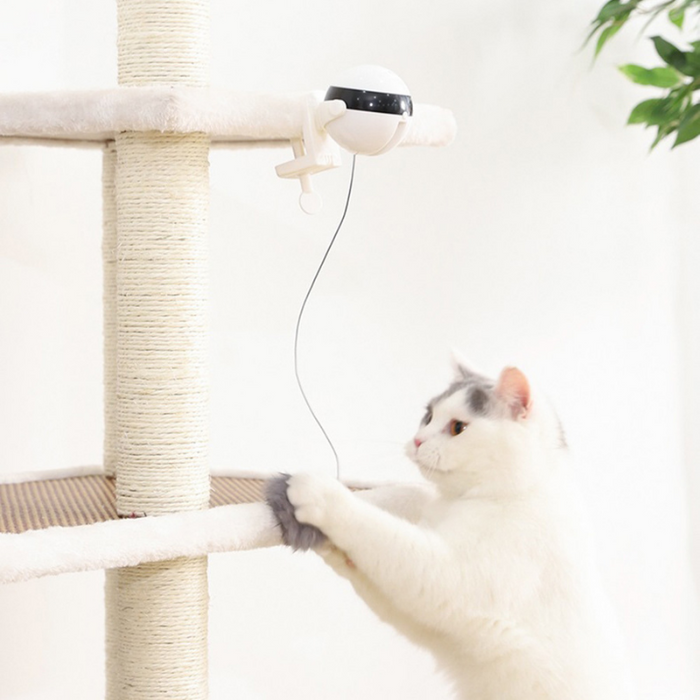 LiftPlay
Interactive and Automatic Cat Ball Lifter
Offer Ends
🐾 Boosts Hunting Joy: Activates happier, active cat instincts.
🎈 Deters Loneliness: Interactive play when owners are away.
💤 Balanced Play: Auto-off ensures rest after active fun.
🎄 Advent Sale - Save

£10.00
🎄 Advent Sale - Save

£10.00
Original price
£24.90
-
Original price
£24.90
Transform your feline's alone time into moments of exhilarating joy, as LiftPlay, the interactive cat ball lifter, promises endless engagement and battles loneliness, ensuring your cat's happiness even when you're away.

See Those Paws Dance and Tails Wag Like Never Before
Picture this: while you're juggling your daily tasks, your furry friend is diving into an epic playtime saga. LiftPlay, our interactive cat ball lifter, turns those solitary moments into thrilling hunting adventures. Your cat won't just be playing; they'll be relishing a world of fun that mimics their natural pouncing and hunting instincts.

Three Minutes to Kitty Playtime Paradise
Give your cat the playful experience it deserves. In just 3 minutes, it's set and ready to roll! With a smart motion sensor tuned to your kitty's every move, endless fun awaits. And don't worry about energy; its power-saving genius ensures the purring doesn't pause

DETAILS
Quick setup




Smart motion sensor activation




Reduces cat's stress and loneliness

Cat-durable material

Suitable for tables with 1-3.5cm (0.39-1.38in) thickness

Powered by 2*AAA batteries (not included)

For sizing please see product picture 

* All orders are processed within 1-2 business days, our typical delivery frame 7-10 business days.  Depending on your location, you may receive your item much earlier.