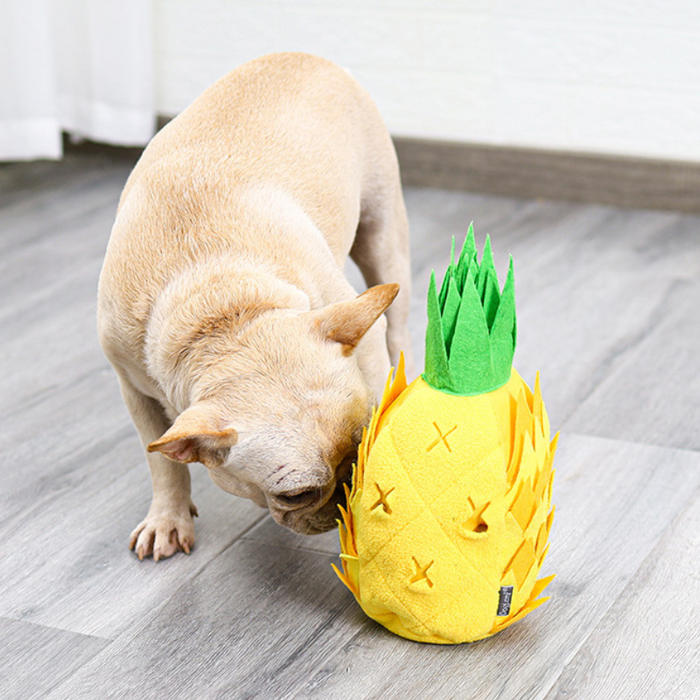 PinePlay - Fun-Filled Pineapple Enrichment Toy for Dogs
Offer Ends
🎄 Advent Sale - Save

£5.00
🎄 Advent Sale - Save

£5.00
Original price
£19.90
-
Original price
£19.90
Experience the sheer delight in your dog's eyes with PinePlay, our unique enrichment toy that not only stimulates their natural instincts to sniff, hunt, and play, but also fosters a bond between you and your furry friend, promoting a happy, healthy, and engaged lifestyle for all dog breeds and sizes, making every playtime an adventure in this fun-filled, treat-hiding pineapple paradise.

More Than Play - Fostering Health and Happiness in Your Dog
Our PinePlay toy isn't just about good times, though. It's about promoting a healthy, active lifestyle for your dog. As your canine companion delves into the pineapple paradise in search of treats, they're exercising both their bodies and minds. You'll see not just a wagging tail but also a mentally stimulated and satisfied dog!

Creating Cherished Memories with Your Furry Friend
PinePlay is all about creating unforgettable moments with your four-legged best friend. As they sniff out their favourite treats, their excitement and happiness become palpable. These are the precious moments that PinePlay helps create, building beautiful memories that you'll cherish for a lifetime.
DETAILS
Boosts Natural Hunting Instincts




Promotes Active Canine Lifestyle




Stimulates Mental Activity

Healthy Dog Playtime with Enrichment Toy

For Sizing Please See Product Picture

* All orders are processed within 1-2 business days, our typical delivery frame 7-10 business days.  Depending on your location, you may receive your item much earlier.