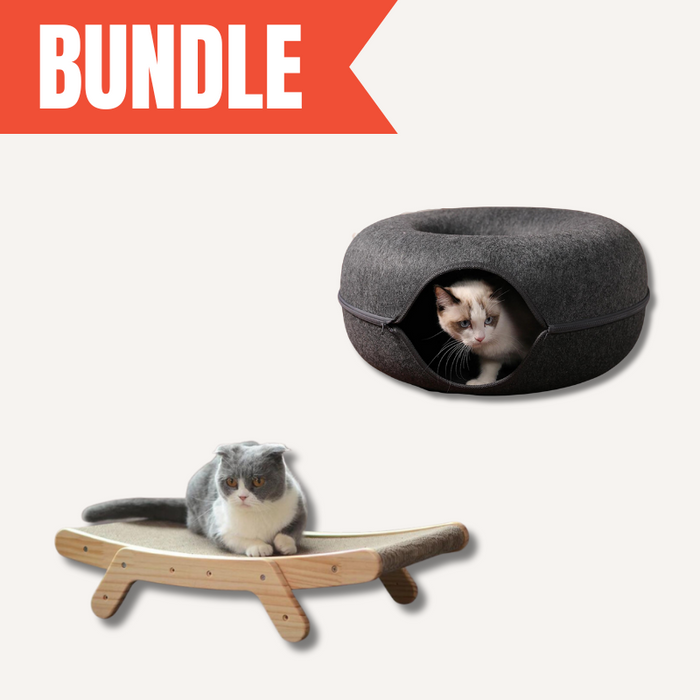 Play & Lounge Set 2
Elevating Feline Play and Relaxation to Purr-fection
Offer Ends
🐾 Transform idle time into active enjoyment with the ergonomic ScratchSlope.
🍩 Purr-fect Circle's donut shape makes it the ultimate relaxation zone.
💪 From scratching to snoozing, this set satisfies every cat's needs.
🎄 Advent Sale - Save up to

£54.95
🎄 Advent Sale - Save

£0.00
Original price
£74.85
-
Original price
£94.85
Indulge in the Ultimate Feline Play & Lounge Set—ScratchSlope meets Purr-fect Circle! This match made in cat heaven combines a Solid Wood Framed Cat Scratcher with an ergonomic curve and a soft, donut-shaped hideaway. From exercising to dozing, your cat can now have it all, while you enjoy a seamless blend of style and functionality in your home.

The Complete Package for Feline Wellness and Joy
Crafted with precision, every aspect of this set prioritizes your cat's wellbeing. ScratchSlope's ergonomic design eradicates awkward flat-surface lounging, allowing your cat to scratch, sleep, and relax in ultimate comfort.
Purr-fect Circle adds another layer to the experience. Its donut-shaped construction provides a secluded play and sleep area, reinforcing your cat's natural affinity for enclosed spaces. It's not just a resting spot—it's a sanctuary that your cat will claim as their own.
The Ultimate Fitness and Relaxation Duo
ScratchSlope isn't merely a cat scratcher; it's a compact fitness center. Varied angles engage your cat, encouraging limb and spine exercise. You'll love the ripple effect— a fit, agile, and satisfied cat ready for active or tranquil moments. But there's more. Purr-fect Circle's cushioned, stable structure promotes both active play and serene rest. It balances ScratchSlope's dynamic activity with a stress-reducing environment where your cat can unwind in solitude when needed.
DETAILS
Ergonomic Cat Scratcher with Solid Wood Frame




Exercise-Encouraging and Health-Boosting




Pet-Friendly, Durable Material




Promotes Active Playtime and Relaxation

Perfect for all Cats

Purr-fect Circle: Size: 50x20cm

ScratchSlope

:

 

For Sizing Please See Product Pictures
For specific product details, please refer to individual product descriptions
* All orders are processed within 1-2 business days, our typical delivery frame 7-10 business days.  Depending on your location, you may receive your item much earlier.