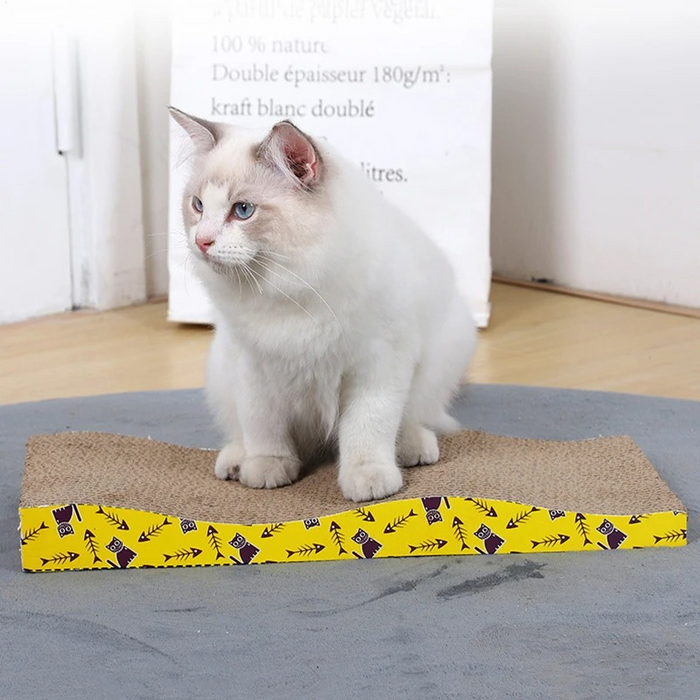 ScratchPad
Compact Scratch and Rest Spot
Offer Ends
🐾 Satisfies kitty's instinctual needs
🛋️ Keeps sofas and chairs scratch-free
🐱 Ideal for claw maintenance and health
🎄 Advent Sale - Save

£10.00
🎄 Advent Sale - Save

£0.00
Original price
£24.90
-
Original price
£24.90
Transform your feline's day from mundane to magical with ScratchPad, the compact scratch and rest spot that promises endless scratching bliss and serene napping - a true home delight for your cherished companion!


A Healthy Cat is a Happy Cat

Healthy claws are vital for your cat's well-being. ScratchPad helps maintain those claws, keeping them sharp and clean in a fun, natural way. It's not just a scratcher; it's a gym for your cat's paws, promoting exercise, muscle toning, and a happy, stress-free pet.
A Scratch Spot That Stands the Test of Time
Worried about wear and tear? Don't be! ScratchPad is reversible, doubling its life span. Its durable, condensed wave design can withstand even the most enthusiastic scratch sessions. This means endless fun for your cat and peace of mind for you.
DETAILS
Multi-Shape Cat-Scratcher

Furniture-Safe Design

Healthy Claw Maintenance




Durable & Long-Lasting Material

For Sizing Please See Product Pictures

* All orders are processed within 1-2 business days, our typical delivery frame 7-10 business days.  Depending on your location, you may receive your item much earlier.