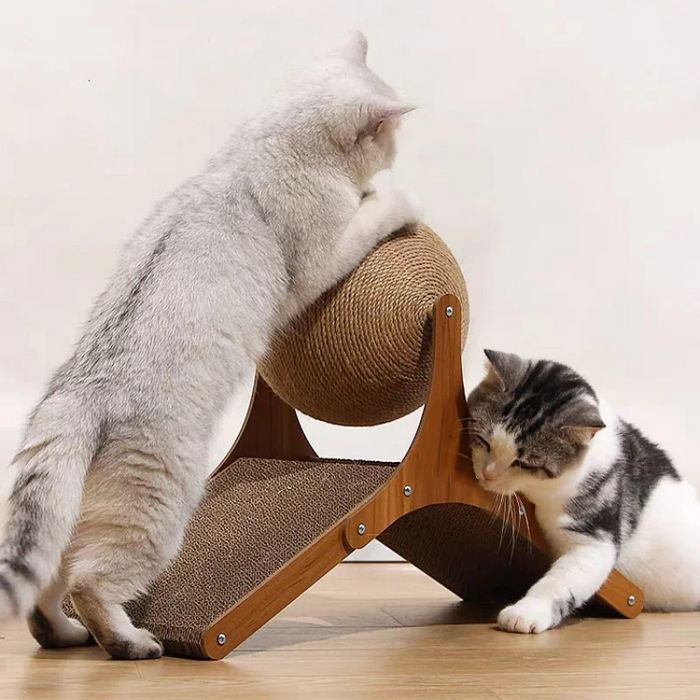 ScratchPlay
Dual-Design Cat Fun and Relief
🏡 No more claw marks on your prized pieces
😺 Sparks joy in every feline leap and scratch
🪑 Complements modern home decor effortlessly
🎄 Advent Sale - Save up to

£15.00
🎄 Advent Sale - Save

£0.00
Original price
£0.00
-
Original price
£39.90
Unleash endless feline fun and safeguard your cherished home décor with ScratchPlay, the dual-design cat fun and relief solution that not only satisfies your cat's natural scratching instincts but also ensures your sofas, cushions, and furnishings remain pristine.
Sturdy Design For Endless Cat Adventures
Crafted with precision, our robust wooden base is meticulously designed to provide a sturdy foundation, ensuring the Sisal ball remains anchored securely. So, whether your kitty is in the mood for an enthusiastic climb, a spirited pounce, or just some playful antics.
A Cat's Dream That Complements Every Space
ScratchPlay seamlessly fits into any living space, whether you're in a cozy studio apartment or a sprawling family home. Its thoughtful compact design ensures that while it meets all of your cat's play and scratching needs, it doesn't dominate or clutter up your living area.
DETAILS
Interactive Paw-Playground

Secure, Non-Slip Base

Safe Climbing Ball

Space-Saving Marvel

Enhances Cat's Activity

Claw Health Booster

For Sizing and Variants Please See Product Picture
* All orders are processed within 1-2 business days, our typical delivery frame 7-10 business days.  Depending on your location, you may receive your item much earlier.