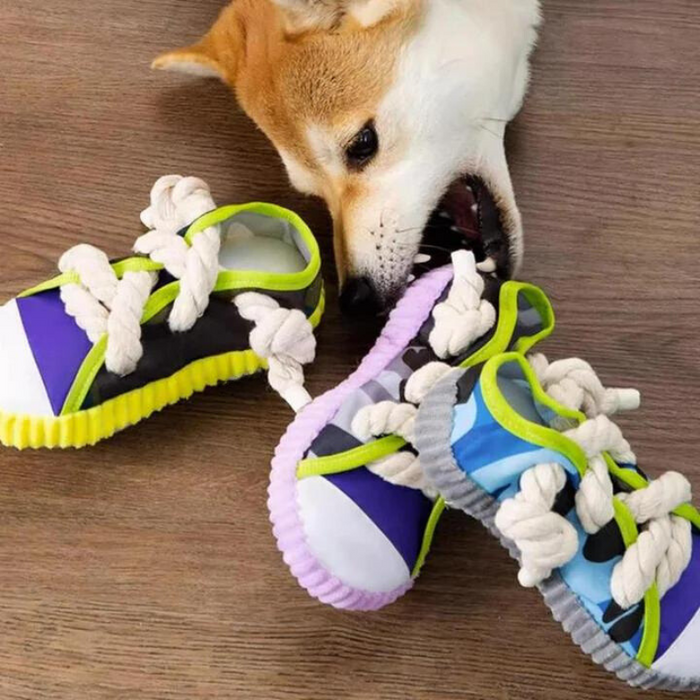 ShoeChew
Dog's Anti-Anxiety Chewing Toy
Offer Ends
👟 Designed like a shoe to capture your dog's natural curiosity.
🛡️ Crafted from durable, non-toxic materials for endless fun.
🐾 Keeps your dog mentally stimulated and relieves stress.
🎄 Advent Sale - Save

£10.00
🎄 Advent Sale - Save

£10.00
Original price
£24.90
-
Original price
£24.90
Say goodbye to shredded shoes and hello to peace of mind with ShoeChew, the dog's anti-anxiety chewing toy that not only entertains your furry friend but also serves as a stress-relieving companion, turning moments of tension into a joyful, shoe-munching spree.

The Ultimate Outlet for Shoe-Chewing Cravings
Imagine your fur-baby completely enthralled, their tail wagging in pure bliss as they sink their teeth into ShoeChew. Unlike those boring toys that they lose interest in within minutes, ShoeChew captivates your dog's attention with its shoe-like design. It's the ultimate 'legal' outlet for their shoe-chomping urges!

More Than a Toy, It's Your Dog's New Zen Master
But wait, there's more! ShoeChew isn't just a distraction; it's your dog's new stress-relieving buddy. It's specially designed to help your pup forget all about their little worries and anxieties. So, you get peace of mind and a happier, more relaxed pooch. Talk about a win-win!

DETAILS
Relieves Stress and Captures Attention

Durable Build and Long-Lasting

Non-Toxic Materials

Machine-Washable

For Sizing Please See Product Picture

Set Includes: 1x Yellow ShoeChew, 

1x Purple ShoeChew, 1x Grey ShoeChew



* All orders are processed within 1-2 business days, our typical delivery frame 7-10 business days.  Depending on your location, you may receive your item much earlier.