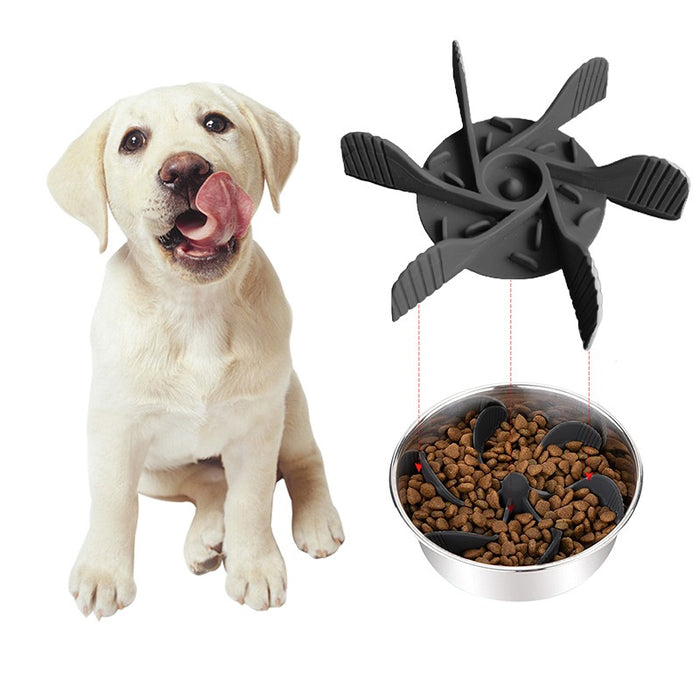 SlowFeeder - Cuttable Dog Bowl Insert
Offer Ends
🎄 Advent Sale - Save

£7.00
🎄 Advent Sale - Save

£7.00
Original price
£19.90
-
Original price
£19.90
Transform Your Pup's Mealtime with the Revolutionary SlowFeeder! Experience a happier, healthier, and more satisfied canine companion as our innovative SlowFeeder Cuttable Dog Bowl Insert effortlessly adapts to any bowl size, encouraging mindful eating and preventing choking, bloating, and indigestion for your beloved four-legged friend.

Boost Your Dog's Health with Slow, Mindful Eating
We know how much you love your pet, and that's why we're dedicated to helping them develop healthy eating habits that last a lifetime. This innovative product offers numerous benefits for your beloved pet. It encourages slower, more mindful eating, reducing the risk of choking, bloating, and indigestion.
Plus, it can help prevent weight gain and keep your dog feeling fuller for longer, making it ideal for pups on a diet or those prone to overeating.

Cut, Fit, and Clean with Ease
Our SlowFeeder insert effortlessly fits into your dog's existing bowl, regardless of size or shape, thanks to its cuttable design. No more worrying about finding the perfect bowl or spending extra money on a brand new one. Just trim the SlowFeeder insert to size, and voilà - you're all set!

The SlowFeeder is super easy to clean, too. Simply remove it from your dog's bowl, give it a quick rinse or toss it in the dishwasher, and it's ready for the next meal.

DETAILS
Promotes mindful eating for dogs and prevents 

choking, bloating, indigestion

E

asy to clean, dishwasher safe

D

urable and long-lasting design



I

deal for fast eaters and dogs on a diet

For sizing - see product picture
* All orders are processed within 1-2 business days, our typical delivery frame 7-10 business days.  Depending on your location, you may receive your item much earlier.