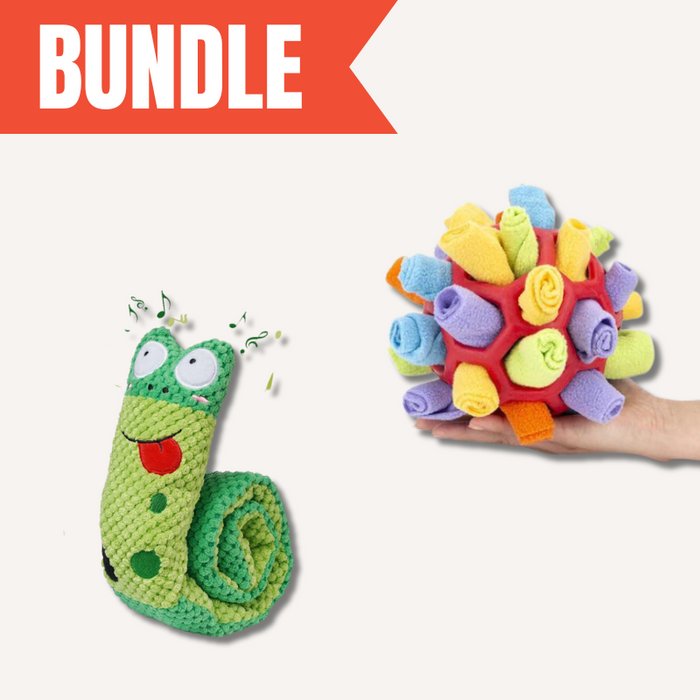 Sniff & Search Enrichment Set 1
Double the Fun: Your Ultimate Package for Scent-Driven Exploration
Offer Ends
🐾 Engages your dog's mind and nose, enhancing their natural skills.
🧠 Ignite problem-solving and curiosity for a well-stimulated, happier pup.
🍃 Easy Maintenance: Durable and washable, designed for hassle-free fun.
🎄 Advent Sale - Save

£34.90
🎄 Advent Sale - Save

£34.90
Original price
£59.80
-
Original price
£59.80
Prepare for wagging tails and playful leaps as you introduce your dog to the Sniff & Search Enrichment Set, a revolutionary bundle that doubles the fun and stimulation. Whether it's the fabric-tugging joy of Sniffle or the treat-discovery adventures with SnuffleSnake, your dog's world is about to become a whole lot more exciting.

A Symphony of Senses: Mind, Nose and Instinct
Introduce your pup to Sniffle, the interactive treat game that excites not just the palate but the brain too. Let them exercise their natural problem-solving skills and sharpen their sense of smell as they eagerly dig through fabrics to discover hidden treasures.
And just when they thought playtime couldn't get any better, bring out SnuffleSnake. Filled with rattling sounds and treat pockets, this toy engages your pet in a hunting-like experience, satisfying their primal instincts while offering endless hours of sniffing and problem-solving.
Double the Fun, Half the Worries
The Sniff & Search Enrichment Set isn't just about fun and games. It's designed with your convenience in mind. Both toys are crafted from high-quality, durable materials, making them safe and long-lasting additions to your dog's playtime repertoire. And when they've had their fill of fun, both Sniffle and SnuffleSnake can be easily tossed into the washing machine for a quick and easy cleanup.

DETAILS
Dual enrichment: Interactive treat game and hunting simulation

Suitable for dogs of all sizes, from Yorkies to Great Danes




Promotes mental health, reduces boredom and destructive behavior

Machine washable for effortless maintenance

Sniffle Size: approx. 20x20cm

SnuffleSnake Size: approx. 70x10cm

For specific product details, please refer to individual product descriptions
* All orders are processed within 1-2 business days, our typical delivery frame 7-10 business days.  Depending on your location, you may receive your item much earlier.