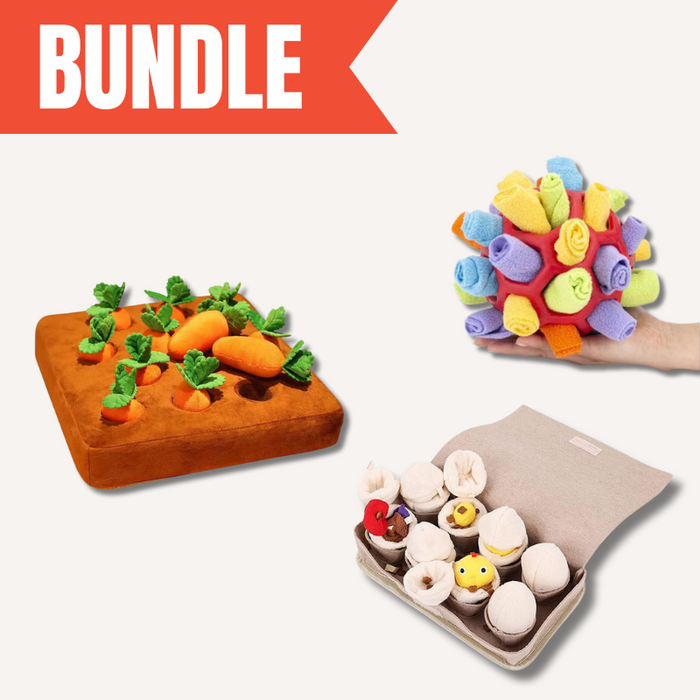 The Big Enrichment Trio
A Tail-Wagging Trio for Endless Canine Fun
Offer Ends
🥕 Transform playtime with our enriching Carrot and Egg Farms.
🐾 Banish boredom and bad behavior: Designed for dogs of all sizes.
🌟 Easy to clean and durable: Ensures endless hours of engaging play.
🎄 Advent Sale - Save

£59.90
🎄 Advent Sale - Save

£59.90
Original price
£104.80
-
Original price
£104.80
Unlock a world of joy, stimulation, and well-being for your four-legged friend with our Big Enrichment Trio. Comprising of the Carrot Farm, Egg Farm, and Sniffle game, this bundle aims to provide your dog with the ultimate indoor play experience that's more than just a game—it's an exercise in mental stimulation.

The Blissful Solution to Behavioral Woes
We all know that lack of playtime can lead to problems like anxiety and aggression. Studies confirm that dogs are at their happiest and most well-behaved when they are physically and mentally engaged.
The Big Enrichment Trio is meticulously designed to keep your dog's nose and brain occupied. From sniffing out hidden treats in the Carrot and Egg Farms to problem-solving in Sniffle, it's an endless playground that tackles boredom and behavioral issues head-on.

Durability Meets Practicality

We know how important it is for pet toys to be both resilient and easy to maintain. Each toy in this trio is crafted from high-quality materials that stand up to rigorous play. Plus, the Carrot Farm comes with a removable and washable "soil" part, and Sniffle is machine-washable, making cleanup a breeze.

DETAILS
Promotes mental health, reduces boredom and destructive behavior
Guaranteed hours of interactive fun
The soil part of Carrot Garden is removable and washable with zipper

Carrot Garden 

Size: approx. 35x35cm




Egg Farm Size: approx. 28x16x8cm

Sniffle Size: approx. 20x20cm

For specific product details, please refer to individual product descriptions
* All orders are processed within 1-2 business days, our typical delivery frame 7-10 business days.  Depending on your location, you may receive your item much earlier.