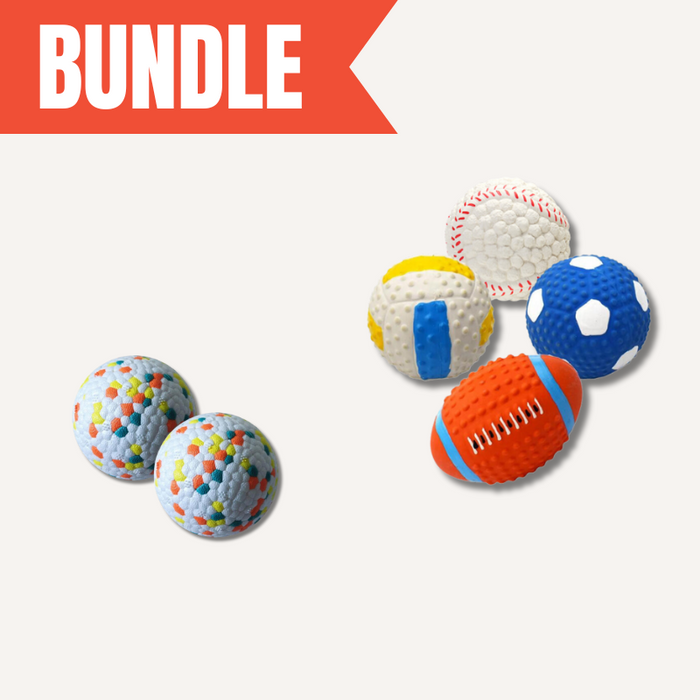 Tough Play Duo
The Ultimate Chewer's Dream: A Bundle Built to Withstand and Entertain
Offer Ends
🐶 Double the Toughness: Two unbreakable toys for twice the fun.
🦷 Healthy Chomping: Chew away with dental benefits in each bite.
💰 Save More, Worry Less: Long-lasting materials mean fewer replacements and more savings.
🎄 Advent Sale - Save up to

£39.90
🎄 Advent Sale - Save

£0.00
Original price
£64.80
-
Original price
£69.80
Experience a newfound serenity as you watch your dog revel in the joy of the Playfinity Immortal Chewball Set and IndestructiBall. This ultimate bundle brings together two of the most robust chew toys on the market, promising not just endless entertainment but also promoting dental health. Satisfy your dog's chewing instincts while resting easy, knowing you've made an enduring choice for your faithful companion.

Double the Fun, Zero Worries
Step up your pet's playtime with a variety that's set to excite and endure. From the sports-themed chewballs to the mighty IndestructiBall, your dog is in for a treat that will withstand even the most passionate chewers. The array of shapes and textures offers a fascinating experience, keeping your dog entertained, physically active, and mentally stimulated. Say goodbye to frequent toy replacements; this bundle is built to last!

All-Around Benefits: From Dental Health to Mental Stimulation
We go beyond durability. Each bounce, roll, and gnaw contributes to your dog's physical and mental well-being. The unique textures aid in dental hygiene, so every chew is also a step towards better health. With the Tough Play Duo, it's not just about enduring playtime; it's about elevating your dog's overall happiness and well-being.
DETAILS
Durable IndestructiBall and Sports-themed Chewball set




Non-toxic and eco-friendly materials

Supports dental hygiene and mental stimulation

Perfect for all dog breeds and sizes

IndestructiBall Sizes: Small - 2.5" (64mm), Large - 3" (76mm)

Chewball Set: 4 pack (football, volleyball, rugby, and baseball)

For specific product details, please refer to individual product descriptions
* All orders are processed within 1-2 business days, our typical delivery frame 7-10 business days.  Depending on your location, you may receive your item much earlier.